Contempo Glass Design showroom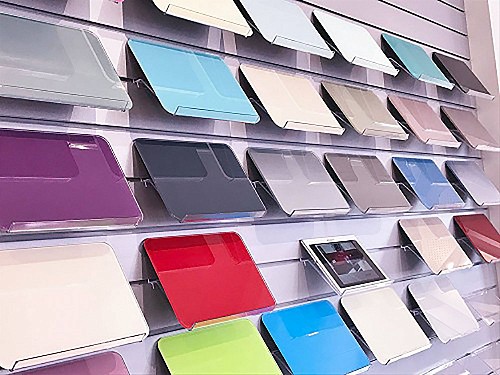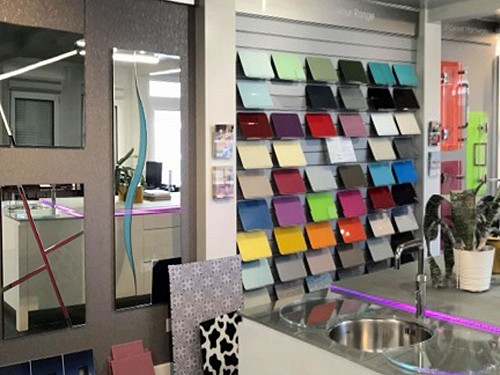 ---
Kitchen Splashbacks
Benefiting from smooth clean lines of uninterrupted glass, splashbacks are hygienic and easy to clean with looks that will last a lifetime.
Colourways include a standard flat and metallic colour range along with the options of colour match and printed images also available. To compliment your colour choice on the reverse of the glass, surface finish options available are classic gloss, frozen and various patterns and textures. Our splashbacks are produced using 6mm toughened glass.
Any cut outs and shaping required are made in the glass using state of the art new generation CNC machinery ensuring best finish and fit.
Splashbacks fit subtly into their surroundings with ease by fixing to the walls by means of a specialist adhesive.
---
Finished kitchen in pumpkin
Contempo Glass Design was established in 2002 They have continued to introduce new design ideas & processes, also developing new colours within Ultimate Splashbac's own colour range. The company has always pushed the boundaries of possibilities for glass within the home and were the first to offer highly polished drainer grooves in glass worktops.
---
Kitchen splashbacks in Cornfield Blue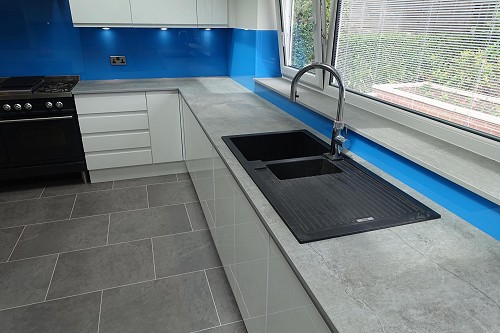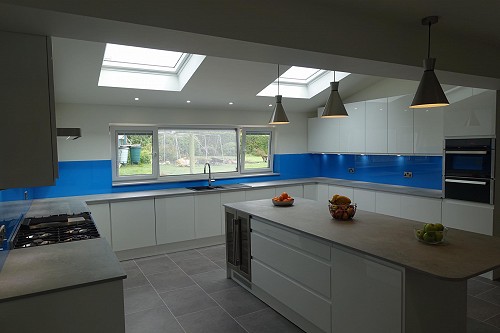 Why we choose Contempo for you
Contempo's experienced installation team are employees (not subcontractors) who work to the highest standards set by the company owners. They use only the highest quality glass, machinery and materials to ensure a quality product and customer satisfaction every time. These standards are what set them apart from other splashback companies and why we at Town Kitchens will continue to use their quality craftmanship in our kitchens. To see their full range of splashbacks visit their website or download their brochure. Alternatively book a meeting at the Town Kitchen showroom and see the full range of glass.
---